These Almond Flour Banana Muffins are sugar-free, moist, fluffy banana muffins entirely sweetened with ripe banana and low-carb using almond flour. These banana muffins with almond flour contain only 5.5 grams of net carbs per serving for keto-friendly banana muffins.
I already shared with you make keto banana recipes, including my keto banana bread that is banana-free.
Most of the time, I like to use banana extract to add a natural banana flavor to keto muffins. But you can make low-carb muffins using real bananas if you keep the amount of banana in control!
These healthy banana muffins are naturally:
Low-carb
Dairy-free
Paleo-friendly
Keto-friendly
Grain-free

Is Banana Keto-friendly?
No, bananas are not keto-friendly fruits. In fact, 100 grams of mashed banana contains 20 grams of net carbs, so if your daily carb macros are around 25 grams, it's hard to eat a whole banana and stay in that range.
However, it's possible to use a small amount of banana to flavor baked goods and keep the recipe low-carb and keto-friendly.
So you can make keto banana muffins with almond flour if you keep the amount of banana in control. Let me share with you my recipe to make a low-carb banana muffin with only 5.5 grams of net carbs!
How To Make Almond Flour Banana Muffins?
These gluten-free banana muffins with almond flour are made with only simple ingredients and ready in just 30 minutes. No fancy tools required, no blender, no food processor, or even hand beater! Just a bowl and the ingredients below.
Are you new to Keto?
Receive my Keto Quick Start email series to learn all about the Keto diet and kick start your keto journey!
Ingredients
All you need are:
Ultra-fine Almond Flour – this is the best to make golden, moist almond flour banana muffins. Almond meal works as well, but it adds a grainy texture and darker color to the recipe.
Salt
Baking Powder or use 1 teaspoon of baking soda instead.
Cinnamon
Mashed Bananas – the best are ripe bananas to add lots of banana flavor and avoid adding any sweetener in the recipe.
Large Eggs at room temperature – this recipe doesn't work with flax eggs or egg replacer.
Coconut Oil or melted butter
Vanilla Extract
Stevia Drops or 1/3 cup of granulated sweetener of choice, like erythritol or coconut sugar if you are making paleo banana muffins. Of course, adding sweetener is optional here, only if you like your healthy banana muffins on the sweet side. To avoid adding carbs, sugar, and calories to the recipe, opt for erythritol or allulose. Both are keto-friendly sweeteners.
Making The Muffin Batter
First, prepare the mashed bananas. Peel your ripe bananas and mash with a fork on a chopping board. It's ok if you have bites of bananas. This adds moisture to the muffins.
Measure 3/4 cup and place in a mixing bowl with eggs, coconut oil, vanilla extract, and stevia drops or granulated sweetener, if used.
Whisk to combine all ingredients.
Now, stir in the dry ingredients: almond flour, salt, cinnamon, and baking powder.
The batter should be thick, look slightly grainy, and that's normal
Baking the Muffins
Preheat your oven to 350°F (180°C). Line a 12-hole muffin pan with paper cases and use an oil spray to lightly oil each muffin case. This prevents the almond flour muffins from sticking to the paper as they cool down.
Fill each paper case with about 1/4 cup of almond muffin batter.
Sprinkle some sliced almonds on top of each muffin if you like.
Bake in the center rack of the oven for 25-30 minutes or until a pick inserted in the center of the muffins comes out clean and the top is golden brown.
Release each banana muffin from the muffin tins and cool down immediately on a wire rack.
Storage
These banana almond flour muffins store very well in the fridge for up to 4 days.
Of course, you can freeze almond flour muffins in an airtight container and thaw them the day before at room temperature.
Serving
This is optional, but you can serve these delicious banana muffins for breakfast with some lovely toppings like:

Add-ons
You can stir in some delicious nuts, chocolate, or fruits in the batter just before baking. You can fold in 1/3 cup of:
Sugar-free Dark Chocolate Chips
Chopped Pecan or Chopped Walnuts
Shredded Coconut
Frequently Asked Questions
Can I Swap the Flour?
Yes.  For a nut-free option, use sesame flour or pumpkin seed flour.
However, you can't replace the almond flour with coconut flour in this recipe.
Both are very different low-carb flours, but coconut flour absorbs 4 times more liquid, and the ratio of eggs will be different with coconut flour.
Try my coconut flour blueberry muffins for a coconut flour muffin recipe.
Can I Make The Muffins Coconut-free?
You can replace the coconut oil with melted butter or almond oil.
Can I Make Them Sweetener?
To boost the muffins' sweetness, add 1/3 cup of granulated or liquid sweetener like maple syrup to the batter.
If you are on a keto diet, use sugar-free maple syrup or erythritol.
Can I blend the batter?
I don't recommend blending the batter. It makes the muffins dense and dry.
Can I skip the banana to reduce carbs?
Absolutely, but you will need an extra 1/3 cup of almond milk to balance the moisture and add 2 teaspoons of natural banana extract to add some banana flavor.
More almond flour recipes
Below I listed more almond flour recipes for you to try.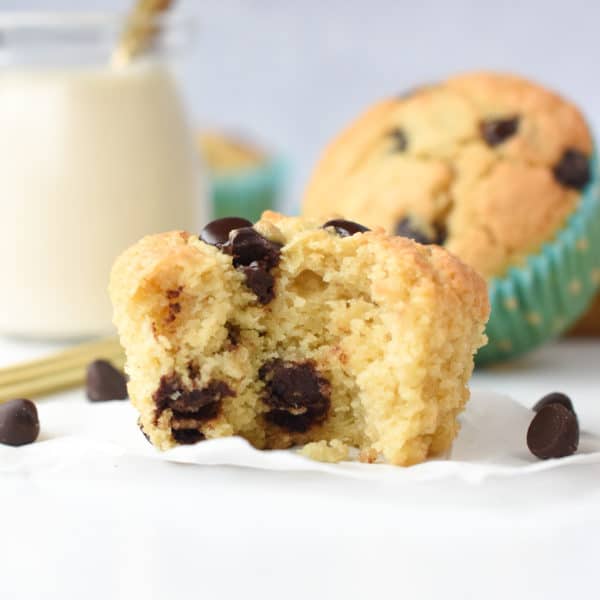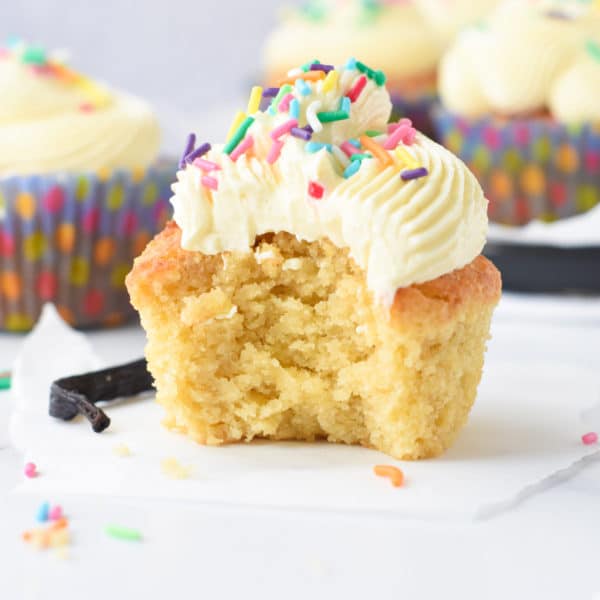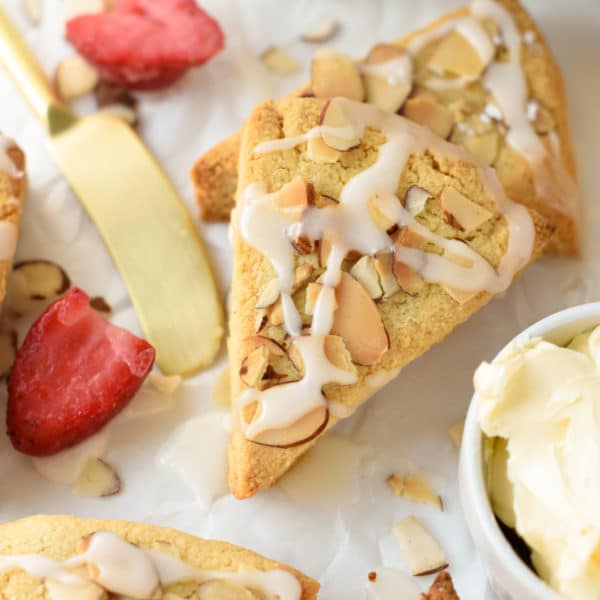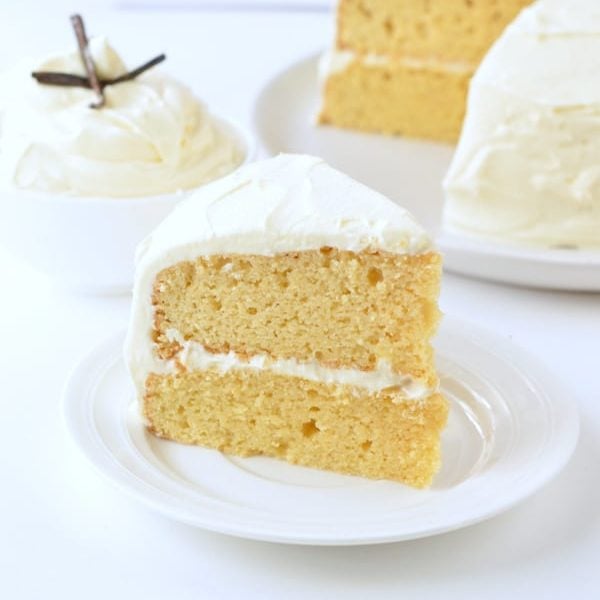 Have you made these low-carb banana muffins? Share a review or comment below to let me know how much you loved them!
XOXO Carine

Recipe Card

Almond Flour Banana Muffin
5.5gNet Carbs
Net Carbs 5.5g
Fat 15.1g
Protein 6.2g
Calories 181.9kcal
Author: Carine Claudepierre
A healthy, Gluten-free Almond Flour Banana Muffin recipe with the most delicious moist crumb and half the carbs of regular banana muffins.
Preheat oven to 350°F (180°C). Line a 12-hole muffin tray with paper cases. Slightly oil the paper cases with oil spray. Set aside.

Peel, mash the ripe bananas on a chopping board with a fork. It's ok if there are bits of banana left. It adds moisture to the muffins. Measure 3/4 cup and place it in a mixing bowl.

In the same mixing bowl, add eggs, vanilla extract, and melted coconut oil – make sure the oil is not too hot, or it can 'cook' the eggs. Add the stevia drops or granulated sweetener if you want to boost the sweetness of the muffins (read note 1). Whisk until the eggs are well beaten and a consistent liquid batter forms.

Stir in the dry ingredients into the wet ingredients using a spoon to gently incorporate: almond flour, salt, baking powder, and cinnamon. The batter should be thick, moist, and look slightly grainy.

Fill each muffin cup with about 1/4 cup of batter, smoothen the top with the back of a spoon and sprinkle sliced almond on top of each muffin.

Bake the muffins on the center rack of your oven for 20-25 minutes or until golden brown and a pick inserted in the center of the muffins comes out clean.

Cool the muffins down on a wire rack for a few hours before serving.
Note 1: The net carbs per serving won't change if you add the stevia drops of 1/3 cup granulated erythritol in the batter. Add only if you want a boost of sweetness or if your bananas are not ripe enough.
Nutrition Facts
Almond Flour Banana Muffin
Amount Per Serving (1 muffin)
Calories 181.9
Calories from Fat 136
% Daily Value*
Fat 15.1g23%
Saturated Fat 4.2g26%
Trans Fat 0.1g
Polyunsaturated Fat 0.3g
Monounsaturated Fat 0.7g
Cholesterol 46.5mg16%
Sodium 137.1mg6%
Potassium 69.4mg2%
Carbohydrates 8.2g3%
Fiber 2.7g11%
Sugar 2.6g3%
Protein 6.2g12%
Vitamin A 77IU2%
Vitamin B12 0.1µg2%
Vitamin C 1.2mg1%
Vitamin D 0.3µg2%
Calcium 92.8mg9%
Iron 1.1mg6%
Magnesium 5.7mg1%
Zinc 0.2mg1%
Net Carbs 5.5g
* Percent Daily Values are based on a 2000 calorie diet.